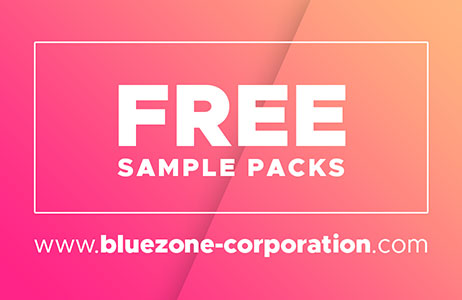 Where can I download free sample packs?
Our free sample packs give you access to professional loops and samples and cover a multitude of music styles: Ambient - Cinematic - Chillout & Lounge - Progressive House - Techno - Tribal & Ethnic... No matter the genre, our free sound packs deliver an incredible foundation and provide what you need to optimize your production capabilities.
Used by the most famous electronic music composers and DJs around the world, our sample packs deliver outstanding loops and samples such as modern synth sounds and acoustic instruments, but also electronic drum loops and traditional percussion recordings.
Here is a non-exhaustive list of digital audio workstations and sequencers that are compatible with our free sounds : Ableton Live - ACID Pro - Adobe Audition - Bitwig Studio - Cakewalk - Cubase - Digital Performer - FL Studio - GarageBand - Logic Pro - Nuendo - Pro Tools - Reason - Sound Forge - Studio One - Tracktion
• FREE AMBIENT SAMPLE PACK > Crystal-clear atmospheric and melodic sounds, heavenly pads as well as immersive synth textures and deep bass : This free sound pack is a must-have for anyone looking to evoke emotion and will leave no one unmoved. Spacious, airy sounds created by experts.
• FREE CHILLOUT SAMPLE PACK > A selection of emotional and relaxing pads, clean drum loops, delicate synth textures and melodic instruments, which will work in tandem with your favorite DAW.
• FREE CINEMATIC SAMPLE PACK > Designed to be inspiring, this free sample pack is an exceptional resource that requires no further processing. This collection contains modern synth textures, orchestral percussion loops and epic, emotionally-charged ambient pads for all of your future blockbusters. Impacts and transitions have also been added to enhance your production. So you can focus on your creativity, even when you're short on time.
• FREE DARK AMBIENT SAMPLE PACK > Numerous dark and threatening atmospheres and unsettling impacts - A clever mix of experimental, unusual and mysterious textures. Oppressive soundscapes and unnatural, disturbing drones are perfect for cinematic projects or video game atmospheres, and they will find their place in contemporary music productions.
• FREE ETHNIC MUSIC SAMPLE PACK > Beyond Borders - This collection contains African and Indian percussion loops, beautifully recorded for cinematic productions and can be adapted to a number of different music styles. Add some acoustic instruments and creative processing to create unique soundscapes.
• FREE HARD TECHNO SAMPLE PACK > Dark, aggressive, thrilling and threatening : This selection "Dark Techno/Industrial Techno" contains powerful kicks, massive percussion loops and devastating synth sounds that are extremely useful when creating your first productions.
• FREE MINIMAL TECHNO SAMPLE PACK > A minimalist, original and unique sound - This sound pack contains many experimental drum loops and abstract percussion loops designed to inspire, and which will serve producers of Techno, Deep Tech, Progressive House and similar music.
• FREE PROGRESSIVE HOUSE SAMPLE PACK > A custom selection for overflowing creativity : This free sample pack will boost your DAW with melodic synth loops, deep basslines and chord progressions, as well as expertly crafted drum beats. This sample pack is the perfect source of inspiration for your future productions.
• FREE PSYTRANCE SAMPLE PACK > An exceptional collection of punchy kick samples, deep bass, transcendent synth sounds and psychedelic sound effects created with vintage and state-of-the-art equipment such as the Access Virus TI2, Roland JP8000, Clavia Nord Modular G2, the Waldorf Iridium and many more.
• FREE TECHNO SAMPLE PACK > Launch your next tracks using underground Techno loops, multi-layered drum loops, as well as percussion sounds recorded and programmed by experts. A club-ready sound pack perfect for established DJs and skilled producers.
• FREE TRIBAL HOUSE SAMPLE PACK > A selection of African percussion loops and modern drum beats created by experienced and talented artists. Just add the sounds of traditional instruments to get a sensational result.
• FREE WORLD MUSIC SAMPLE PACK > A selection of international significance! A ready-to-use pack for anyone who is looking for meticulously recorded Ethnic drums. Perfect for productions from Ambient and Downtempo, to Deep Tech and Tribal House.
Don't forget to download the free 1GB sound pack available on the homepage!
( on the main page, scroll to bottom, registration not required )
DOWNLOAD 1GB OF FREE SOUNDS ► www.bluezone-corporation.com