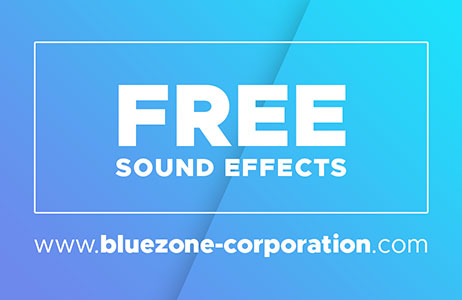 Looking for professional sound effects to enhance your games and video editing projects ? Look no further ! At Bluezone Corporation, we offer a wide range of free sound effects that are perfect for game developers and content creators. With our sound packs, you'll have access to high-definition audio used in the latest blockbusters and by leading game development studios worldwide.
Royalty-free sound effects library
Access our vast royalty-free sound effects library and discover the perfect sound fx for your project. From whooshes to thunderous impacts, our collection offers a diverse range of professionally designed sound effects to enhance your audio productions. Download now and unleash your creativity.
Free sound effects downloads
Expand your sound effects library with our free downloads. From sci-fi to nature sounds, we offer a wide selection of high-quality sound effects suitable for various projects. Enhance your audio productions, game sounds and videos with our professionally crafted sound effects. Download now and take your projects to the next level.
Free game sound effects
Enhance your users' gaming experience with our collection of free game sound effects. From gunshot sounds to epic orchestral music samples, our library has everything you need to create immersive gameplay. Download now and bring your virtual worlds to life with captivating audio.
Compatibility and usage
Our free sound effects are compatible with all major digital audio workstations and video editing software capable of processing WAV files. They can be used in video games created using current game engines, allowing you to take your projects to the next level.
Free and unlimited usage
The best part ? Our sound effects can be used as many times as you like in any of your projects, even for commercial purposes. No attribution or credit is required, giving you the freedom to unleash your creativity without any restrictions.
Expanding your sound effects collection
To complete your sound effects collection, we also offer a 1GB pack available for download on our homepage. This comprehensive pack includes a vast selection of additional high-quality sound effects to elevate your projects further. Be sure to check it out !
Explore our free sound packs
Discover the range of free sound packs available at Bluezone Corporation :
Immerse yourself in natural soundscapes and designed environments. From the soothing sounds of a mountain lake to the crashing waves on a beach, these ambient sound effects are perfect for cinematic productions. Additionally, you'll find background sounds of spaceship command centers and space storms, adding depth to your creations.
Add punch and intensity to your projects with these ready-to-use cinematic impacts. From the striking sound of a hammer on an anvil to the thunderous closing of metal factory doors, this pack is a must-have for action, suspense, and thriller movies.
Enhance your scenes with a variety of communication-related sounds, including speaker hums, interference, military radio chatter, and more. Additionally, this pack features science fiction sound effects, perfect for adding an otherworldly touch to your creations.
Bring your creatures to life with this selection of creature sound effects. From menacing growls and grunts to the sounds of mythical creatures like Orcs and Ents, this pack offers a wide range of audio clips for your imaginary worlds.
Need spectacular explosions and crumbling buildings ? Look no further. This pack includes detailed sound effects of wood, metal, stone, and glass debris, suitable for natural disasters, construction areas, and war zones.
Create impact and excitement with our collection of explosion sound effects. From smoke grenades to futuristic explosions, these audio clips are essential for strategy and FPS games.
Immerse your audience in the world of factories and mechanical elements with this collection of machine room ambiences and metal banging sounds. Perfect for creating realistic industrial backgrounds.
Add authenticity to your projects with a selection of complex starting and stopping mechanisms, as well as metal textures. These sound effects are ideal for industrial assembly lines and mechanical robot scenes.
From detailed impacts to tension-filled sounds, this pack offers versatile and varied metal sound effects. Perfect for movies and video games, these audio clips will create a sense of intensity and action.
Bring nature to life with this superb collection of high-resolution ambiences and sound effects. From the soothing movement of waves to the cracking of ice, these audio clips will transport your audience to different natural environments.
Step into a secret laboratory with this sound effects pack that allows you to create mutating life forms. From giant crawling creatures to slimy and bubbling substances, these audio clips are perfect for bringing your monstrous creations to life.
Whether you're telling a tale of saving humanity or preparing for an apocalyptic future, this selection of robot sound effects has you covered. With heavy robot footsteps, futuristic weapon fire, and mechanical transformations, these high-resolution sound effects will add depth to your science fiction projects.
Set the mood with dark and shadowy ambiences. This pack offers eerie and terrifying atmospheres ideal for backgrounds in deserted villages, scary forests, abandoned bomb shelters, and more. Perfect for creating a spine-chilling atmosphere.
Step into the future with this collection of advanced technology sound effects. From the passing of spaceships to synthetic alien textures, these sound effects are a source of inspiration for science fiction movies and video games set in futuristic space stations, colonies, and cities.
Take a journey through snowy landscapes with this selection of sound effects. From footsteps in the snow to cracking ice, these audio clips will add a touch of winter magic to your projects.
Prepare for interstellar adventures with this spectacular sound pack. Featuring futuristic user interface sounds, speeding spaceships, and cockpit ambiences, these audio clips will transport your audience to the depths of space.
Dive into the world of retro-futuristic gadgets with this collection. With mechanisms in motion, metal gears turning and clockwork sounds, these audio clips are perfect for creating a steampunk atmosphere reminiscent of the Victorian era.
Heighten the suspense and tension in your movie trailers, teasers, and short films with this collection of ready-to-use sound effects. From atmospheric textures to impactful transitions, these audio clips will captivate your audience and support the action on screen.
Unleash the power of transforming robots with this selection of sound effects. With mechanical parts in motion, transformations, and futuristic weapon fire, these high-resolution audio clips will give your metallic creatures a formidable presence.
Enhance the interactive experience of your applications and video games with modern sound effects. From detailed clicks and buttons to high-tech beeps and activation sounds, this pack is a valuable resource for creating engaging user interfaces.
Elevate your gaming experience with this collection of high-quality sound effects. Used by leading video game studios, these audio clips are perfect for strategy, adventure, simulation and FPS games, offering high-resolution and ready-to-use sounds.
Immerse your audience in the sounds of water with this collection of immersive sound effects. From gentle streams and waterfalls to underwater sounds and cracking ice, these audio clips will bring your aquatic scenes to life.
Arm yourself with a vast arsenal of sound effects. From heavy machine guns to futuristic weapons, this next-generation sound pack provides the essential audio elements for war movies, alien invasions, strategy games, and FPS games.
Step into the forest with this collection of wood-related sound effects. From bark cracking to wood splintering, these audio clips capture the essence of nature and add authenticity to your projects.
Sounds good... But I want more... !
Don't miss out on the opportunity to download our 1GB of free sounds available on the homepage ! Scroll to the bottom of the main page, and you can access this extensive collection without any registration requirements.
Go to the homepage to download the free 1 GB sound pack ► Download 1GB of free sound effects